Blogs
Billy Jack's Musings-Blog
Inspector Javert Patriot Blog
Other Links
D.O.J. CCW Application Form
California Rifle and Pistol Association
National Rifle Association
Solutions from Science
Survival Products
Survival Gear
Seed Banks
Solar Power
Survival Books
Emergency Food


"It is not only for what we do that we are held responsible, but also for what we do not do."
-- Moliere (More Quotes)
A Recent Testimonial "Team Billy Jack has done a wonderful job of helping me get my CCW. He was familiar with my specific Sheriff's office and their procedures. I'm confident that his review of my Good Cause Statement had a positive effect on my approval. I was able to get my permit in Southern California in only two and a half months. I would strongly encourage anyone applying for a CCW to consult with Team Billy Jack!"
Emergency Cell
Phone Charger



This Site Supports The Law
Team Billy Jack is an advocate for the Constitution and thus supports the rule of law. We do not condone any illegal activity when dealing with Law Enforcement..
We will, however, challenge those CLEO's and Sheriffs who think that they can rewrite the law and those whose understanding of P.C. 26150 (the California Concealed Carry law, formerly known as PC 12050) is apparently lacking. In his various blog entries, Billy Jack discusses how we believe that the law should be interpreted and enforced. He also discusses Constitutional abuses by the current occupant of the White House, his Administration and other elected and appointed officials at all levels of government.
Convoy Escorts
Company based in Southern California is seeking two Team members for cross country missions in last quarter of the year who possess all of the following:

Law enforcement/military background
Critical thinking skills sets in threat assessment and countermeasures.
You will be scenario tested during phone interview.
CA CCW
FL or UT CCW or Law enforcement exemption
Current BSIS Firearm and Guard Cards
Clean CA CDL
Reside in Southern California. Missions begin and end at the Port.
511 Tactical clothing in Coyote or Khaki with desert boots
CA legal sidearm and CA legal AR 15 from reputable manufacturer.


This is a physically and intellectually challenging part time position conducted much like DOE escorts nuclear material cross country.
Do not embarrass yourself or waste our time unless you fulfill minimum requirements.
NO EXCEPTIONS!
Email ronintransporters@yahoo.com or Contact Us
GOOD CAUSE
You must have Good Cause as defined by the Attorney General Opinion of 1974 or that falls within the written guidelines defined in your department's policy. There is no one Good Cause as everyone's need is different. It has to be sufficient to convince a jury or Judge that your need satisfies the Policy or is as good as or better than others issued by the department. Many departments have 'Dual Issue' policies, illegal under the 14th Amendment, or 'No Issue' policies, illegal under Salute v Pitchess and sometimes under the 14th Amendment, depending on its application and implementation. Our job is to thoroughly investigate the department and do a Forensic examination of existing CCW files for violations of Policy and statute. If they exist, you may have a viable case for State or Federal court. This investigation will be done on an hourly fee basis.
GOOD MORAL CHARACTER
That is self explanatory. Clean background and not in a prohibited class.
LEGAL REPRESENTATION AND INVESTIGATION
There is no free lunch. Lawsuits take time and there are costs associated with them. Attorneys charge a fee for their services. Some Attorneys require a Retainer and others charge an hourly fee. These charges will be explained to you in detail when you decide to challenge a denial of your application. Private Investigators also charge a fee for service. Fees are by Retainer and hourly. Our Investigators will make accommodations or arrangements on some cases.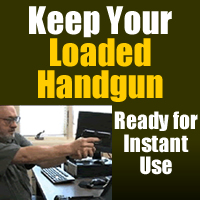 If your case prevails by settlement or jury decision, and it is our policy to only take cases we believe we can win, our objective is to compel issuance of a CCW to client, compliance with Policy or a new Policy with the court retaining supervision and jurisdiction and insure you receive a settlement that will cover costs of suit and compensate you for the misconduct of the department and your efforts in enforcing the law and Constitution. Please contact us prior to beginning the process, as it is best to create a solid record of your efforts to apply.
Preston 'Billy Jack' Guillory
Patriot & Oath Keeper
Carrying a Concealed Firearm in California
In about 40 of the states, any law-abiding citizen may carry a concealed firearm. In Alaska, Arizona and Vermont, a license or permit is not required. In Wyoming, since July 2011, residents are not required to have a permit and it is believed that the out of state permits of non-residents will be honored. In the others ("Shall Issue" states) the weapon license, or permit, MUST be granted. One state (Illinois) has no provision for concealed carry (this may change shortly). The remaining few are known as "May Issue" states, and permits are frequently granted, or refused, at the discretion of Sheriffs, Police Chiefs or Judges (depending upon state law).

California is a "May Issue" state; the decision to grant a CCW (Carry a Concealed Weapon) Permit being granted (or more often refused) at the discretion of the County Sheriff or Police Chief. Some sheriffs/chiefs issue on a reasonable basis, others can be next to impossible to persuade. Many of them, such as LAPD, LASO, Marin SO, SDSO, SFSO and SFPD, (to name just a few) operate Constitutionally illegal policies that are ripe for a legal challenge.

This site is designed to help California residents to understand the law concerning Concealed Carry Permits in California, how to determine whether you reside in a city or county in which it is relatively easy or difficult to obtain a permit and how to make the best of whatever situation in which you find yourself.
Second Amendment
Having a CCW is a privilege, not an entitlement, and the Courts have ruled that a California CCW is not guaranteed to anyone under the 2nd Amendment. If your core belief is that it is a 'Right' guaranteed by the Constitution, stop reading and go to one to the Foundation supported sites that share your beliefs. However, the 14th Amendment (Due Process, Equal Protection) is extremely relevant, as many Sheriffs/Chiefs issue on a discriminatory basis. This site will help you identify and overcome this discrimination.
The 9th Circuit Court issued a Decision on February 13th, that 26150 PC is overly restrictive and Good Cause can be 'Personal Protection' or 'Self Defense. This Decision if upheld will change this section completely. Defendant Sheriff William Gore has decided not to appeal. In what seems to be a coordinated effort, California Attorney General Kamala Harris, the Brady Campaign, the Legal Community Against Violence, the California Peace Officers Association, and the California Police Chiefs Association filed petitions requesting an en banc hearing. The State of California represented by Harris and the Brady Campaign also filed motions to intervene in the case. We will change this section once the appeal issue is decided. In the meantime, check with you local Sheriff to see if they are embracing the 9th Circuits decision. To date, Ventura County has gone Shall Issue, as have Orange County and San Diego County. Ventura has done so without stipulations. Orange and San Diego have done so with caveats. Please refer to the county sections to determine the status of your particular county. If you find something on our site that has changed or is incorrect, please be so kind as to use our contact form to let us know.
Our Mission
To assist those dealing with California and the right to equal access to a Concealed Weapon Permit. We will tell you up front what we believe your chances of success are and discuss all of your options. California, with its restrictive Concealed Weapon Permit laws (PC 26150), has great need of a site designed solely to help those who wish to successfully acquire a CCW. If you are serious about this pursuit, then you have come to the right place.
Getting Started
If you are a law-abiding Californian citizen who is serious about getting a CCW, then this may be just the site to help. To get the full benefit of the resources on this site, you must regard this as a serious exercise, and be prepared to engage your brain. Once you have done your homework, contact us for help with the next stage.

It is the aim of this site to provide information and assistance to all serious applicants who request same. If you are denied and desire to pursue your appeal beyond the department's appeal process, we have professionals here that can assist you. A PI with 38 years combined experience in law enforcement, a Plaintiff's Private Investigator and armed CCW Transporter. 25 of those years investigating government corruption and specializing in investigating Chiefs and Sheriffs with illegal CCW policies and practices.

We work with attorneys who are CCW friendly and some of whom are themselves are former law enforcement. If you work with us we will champion your case through the legal system. Salute v. Pitchess and Guillory v. Gates were benchmark cases that spell out your right to be fairly evaluated in your application for a CCW. Quitters do not win and winners do not quit!

Team Billy Jack is made up of professional, licensed winners. Billy Jack does not view defeat as an option and he does not take prisoners, so if you ask for our assistance be prepared to put some work into your application and possible appeal.


FEES
If you like our Web site and would like to request personal assistance, we ask that you review the fee schedule prior to contacting us. No service or advice can be provided until we receive a PayPal confirmation of payment.

All fees are partially waived for active military personnel.

A percentage of your fees to site goes to the Wounded Warrior Project. We support their Mission Statement to provide programs and services to severely injured service members during the transition from active duty to civilian life.


| | |
| --- | --- |
| $150.00 | for 15 minute phone consultation with Preston 'Billy Jack' Guillory on any or all aspects of application procedure and protocol. |
| $250.00 | for a review, edit, redraft and critique of your Good Cause statement |
| $50.00 | for any subsequent review, edit, redraft and critique |
| $750.00 | for assistance with writing a letter of appeal to a CCW Denial |
| $5000.00 | Retainer for Investigator when filing a Federal CCW lawsuit. Attorney services are separate |
You can use MC, Visa, Amex and Discover on Paypal and a Paypal account is not required
"Team Billy Jack has done a wonderful job of helping me get my CCW. He was familiar with my specific Sheriff's office and their procedures. I'm confident that his review of my Good Cause Statement had a positive effect on my approval. I was able to get my permit in Southern California in only two and a half months. I would strongly encourage anyone applying for a CCW to consult with Team Billy Jack!"
Warning
An ill-prepared application can seriously hurt your future chances.
Suggestions
If you have any suggestions about or contributions for this site, please Contact Us.